PATRONS SCHEME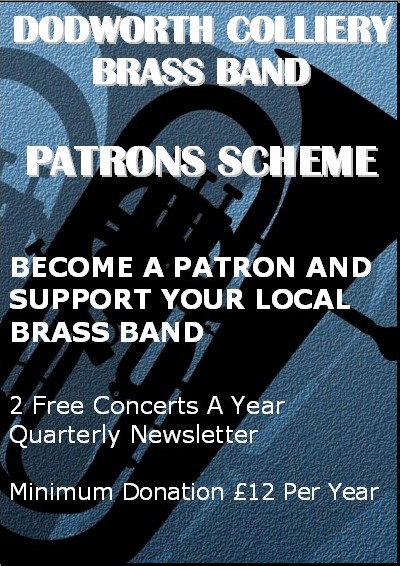 You are invited to become a Patron of Dodworth Colliery Brass Band to help secure its future as part of the local community, providing entertainment at a variety of engagements throughout the year and providing an opportunity through the Training Band for young people to learn an instrument.
Dodworth Colliery Brass Band has been in existence for many years and in the past has benefitted from sponsorship. Now we are entirely self-sufficient and need to obtain support in different ways so that the Band can keep progressing and developing into the future. In the present climate it is in danger of not being able to maintain itself. You can help by becoming a Patron of the Band.
Benefits From Membership:
The satisfaction of supporting Dodworth Colliery Band and its Training Band as a local community organisation promoting live music in the area.
A free ticket per patron to two concerts per year
Recognition of your generosity on our website
Regular Newsletters
Early notification of Band concerts and events
We need as many patrons as we can to support us in our efforts to secure a future for Dodworth Colliery Brass Band within its local community. We are hopeful that we will see the list of our patrons grow and grow.
The scheme is open to businesses as well as private individuals. Business patrons may have a link to their website added to our website.
Annual Subscriptions
Individual £12
Corporate £20
If you would like to become a Patron, please complete an application form and post it along with your donation to the Band.

Other patrons wish to remain anonymous. We now have a total of 34 patrons. Many thanks to all our patrons for your valued support.